EVERYTHING CHANGED IN AN INSTANT.

I thought I knew what was important, but one phone call sent my life into a tailspin. Alone and afraid, I clung to the one man I shouldn't. I was warned about him and told to stay away. "He's dangerous," they said. But the man who could hurt me the most, gave me the greatest comfort. "He's not who they think," I told myself. But just like an illusion, things are never what they seem.
Enshrine is a full-length, standalone novel by USA Today Bestselling author, Chelle Bliss.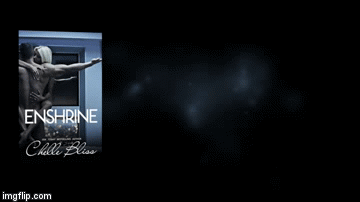 Well, I think that Chelle have stolen the hearts of all her readers with another fantastic story. She brought me to tears more than once while I was reading Callie's story. I didn't have any other choice but to feel every emotion she was going through. I cried when she found out her news, I cried when she was secluding herself from the world, I bawled when she came to terms with what she was going to through, and I bawled some more because she thought she should and could go through this trying time by herself. The thing is she was betting on Bruno being the man that he turned out be, he was there for her and help save her from herself. That's the come to Jesus moment in this book, because a lot of us have this independence and believe that we can go through everything on our own, and I was so happy to see Chelle highlight the fact that even though Callie believed she had it all together it was ok to fall apart this one time, but Bruno made sure she did do the whole pity party for long. One of my favorite parts of the book was her cutting her hair, I got so choked up, it shows that the little things we take for granted one day we'll have it the next we don't. Then the gesture that Bruno gave, my goodness how can I not fall in love with him even more. I actually bawled right with Callie in that moment, he was able to communicate with her on a different level of understanding. I could go on and on about this book man, I just couldn't put it down once I started. I'm writing this review and remembering everything I am getting very teary eyed. Thank you so much Chelle for sharing this story with us, I love every single minute of it.
USA Today
Bestselling author, Chelle Bliss, currently lives in a small town near the Gulf of Mexico in Florida. She's a full-time writer, time-waster extraordinaire, social media addict, and coffee fiend. She's written over ten books and has two series available. She loves spending her free time with her boyfriend, 2 cats, and her hamster.
Before becoming a writer, Chelle taught high school history for over ten years. She holds a master's degree in Instructional Technology and a bachelor's in history. Although history is her first love, writing has become her dream job and she can't imagine doing anything else.
Becca, my best friend, snaps her fingers in my face. "Cal, are you listening to me?"
I smile and nod, but her words are distant. I've looked at my phone at least fifty times today. I'm on pins and needles waiting for an important phone call. One that could change my life, and I haven't told a soul about it—not even Becca. Telling people makes it real, and I'm not ready to face the possibility I could have more important things to deal with than which pair of shoes to wear with my favorite Donna Karan dress.
"So what do you think?" Becca asks.
I blink a few times and pretend I heard her question. "You should do it."
"Okay," she says and hops off the stool.
I grab her hand, holding her next to me so I can find out exactly what I told her to do. "Where are you going?"
"I asked if I should try to fuck 'The Butcher.'"
My mouth drops open and my eyes grow as wide as saucers. "Becca!" I yell and wrap my fingers around her hand. "Sit your ass down." I glance over my shoulder, following her eyes to where he sits.
"He's always looking over here, ogling you. I thought maybe he'd take the next best thing."
I gawk at her, completely in shock. "You can't be fucking serious."
Slowly, she walks backward toward her seat. "I'm just kidding, asshole. You acted like you were listening, but you didn't hear a damn thing. I just thought I'd fuck with you."
"I'm sorry." The guilt of ignoring her eats at me, and even though I want to tell her what's going on, I don't dare. "And for your information, Bruno isn't ogling me."
She fiddles with her cosmopolitan. "I think you should get your eyes checked next time you're at the doctor, Cal. He's always watching you. It's sexy, but it also creeps me the fuck out. He's so dangerous."
I laugh, playing it off, but I've noticed it too. "Is he looking over here now?" I ask, refusing to turn around to look for myself.
She leans forward, her eyes peering behind me. "He is. He's not taking his eyes off us either."
"He probably thinks we're trouble or something," I say and hope she drops the topic because I'd rather find out what she was going on about before.
"You can pretend like you don't think he's hot, Cal, but I've seen you flirt with him more than once."
I shake my head and chuckle softly. "Smiling and saying hello isn't necessarily flirting."
"He has a thing for you."
"He probably has a thing for every girl in this place."
"Nope." She shakes her head vigorously and puckers her lips. "He wants you."